There are already three clinical trials with the BCG vaccine for elderly/adults before the COVID-19 pandemic showing its efficacy against pneumonia, acute upper respiratory tract infection(AURTI), and H1N1 influenza
I have added a few related clinical trials done before the COVID-19 pandemic in the original article but I guess many people don't notice. Let me introduce them here.
There many papers regarding trained immunity among children with BCG vaccination but I have been looking for clinical trials with adults, especially seniors since they are vulnerable with COVID-19. And I have found three papers so far.
1.
A randomized clinical trial for bedridden elderly people in Japan in 2003.
BCG re-vaccination significantly reduced the probability of pneumonia.
Prevention of Elderly Pneumonia by Pneumococcal, Influenza and BCG Vaccinations
https://pubmed.ncbi.nlm.nih.gov/15732353/
https://medical.nikkeibp.co.jp/inc/all/hotnews/archives/237265.html (A little detailed article in Japanese)
No BCG strain info obtained but I guess this trial was done with the BCG Tokyo strain since it was done in Japan.
Below is a machine translation of
https://medical.nikkeibp.co.jp/inc/all/hotnews/archives/237265.html .
 Ohrui and colleagues first performed a tuberculin test on 155 elderly people with impaired ADL who were residing in a nursing home. The negative group was randomly assigned to the BCG vaccinated or non-BCG vaccinated group (NT group). 4 weeks after vaccination, the BCG vaccinated group underwent another tuberculin test to identify those who had positive outcomes (CT group), and the presence of pneumonia and its complications, hospitalization rate, and life expectancy in each group were followed over the next 2 years.
 As a result, new cases of pneumonia were identified in 19 of 44 (42%) in the NT group. On the other hand, only 6 (15%) of 41 patients in the CT group and 9 (13%) of 67 patients in the PT group were confirmed, and the incidence of pneumonia was significantly reduced in the CT group, especially in comparison to the NT group (p=0.03).
 From these results, the research group concludes, "BCG vaccination was found to be effective in preventing pneumonia in the bedridden elderly.
(Added on 8 June)
There was an article of this clinical trial on the correspondence of The Lancet.
https://www.thelancet.com/action/showPdf?pii=S0140-6736%2802%2911333-X
https://tohoku.repo.nii.ac.jp/?action=pages_view_main&active_action=repository_view_main_item_detail&item_id=130570&item_no=1&page_id=33&block_id=38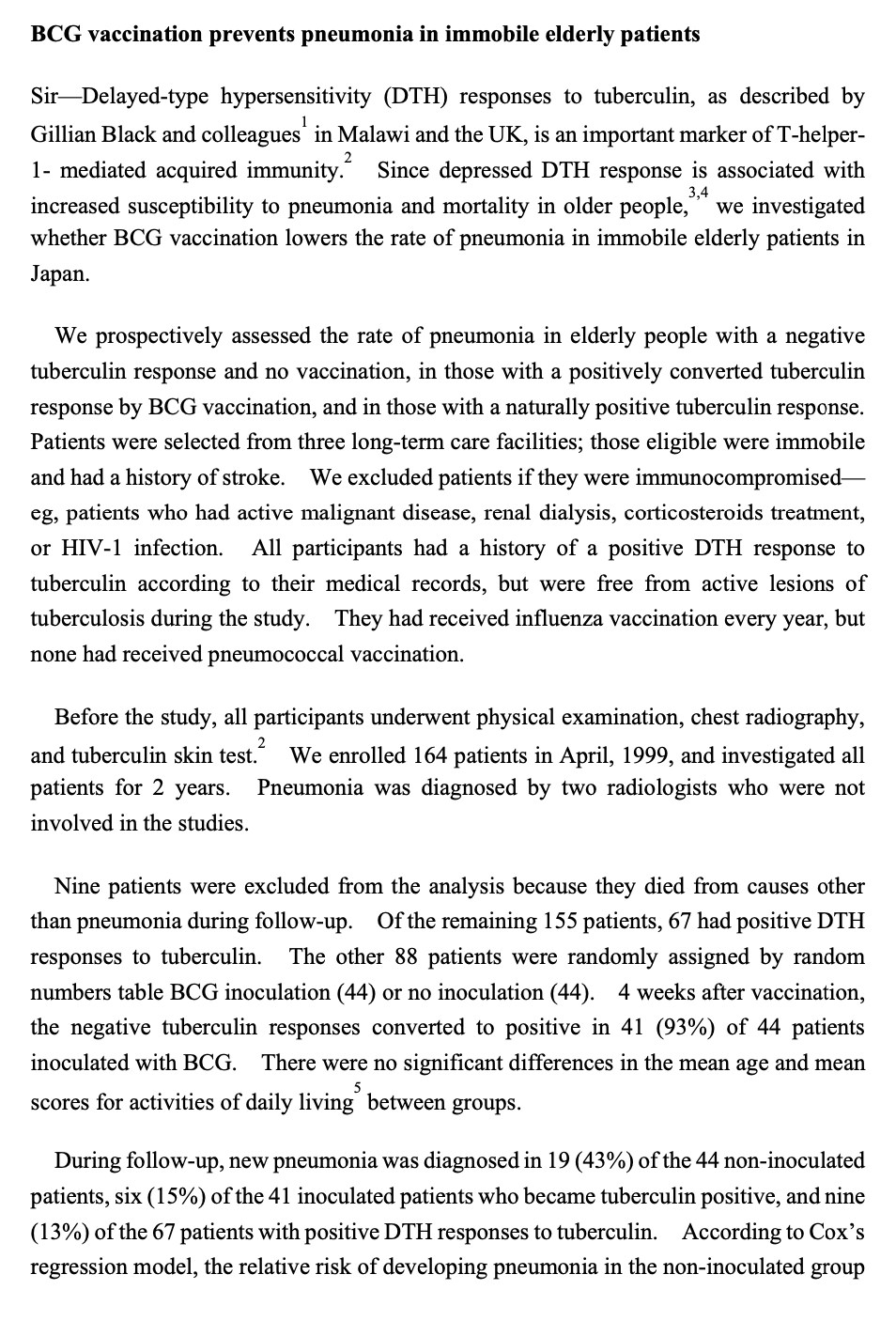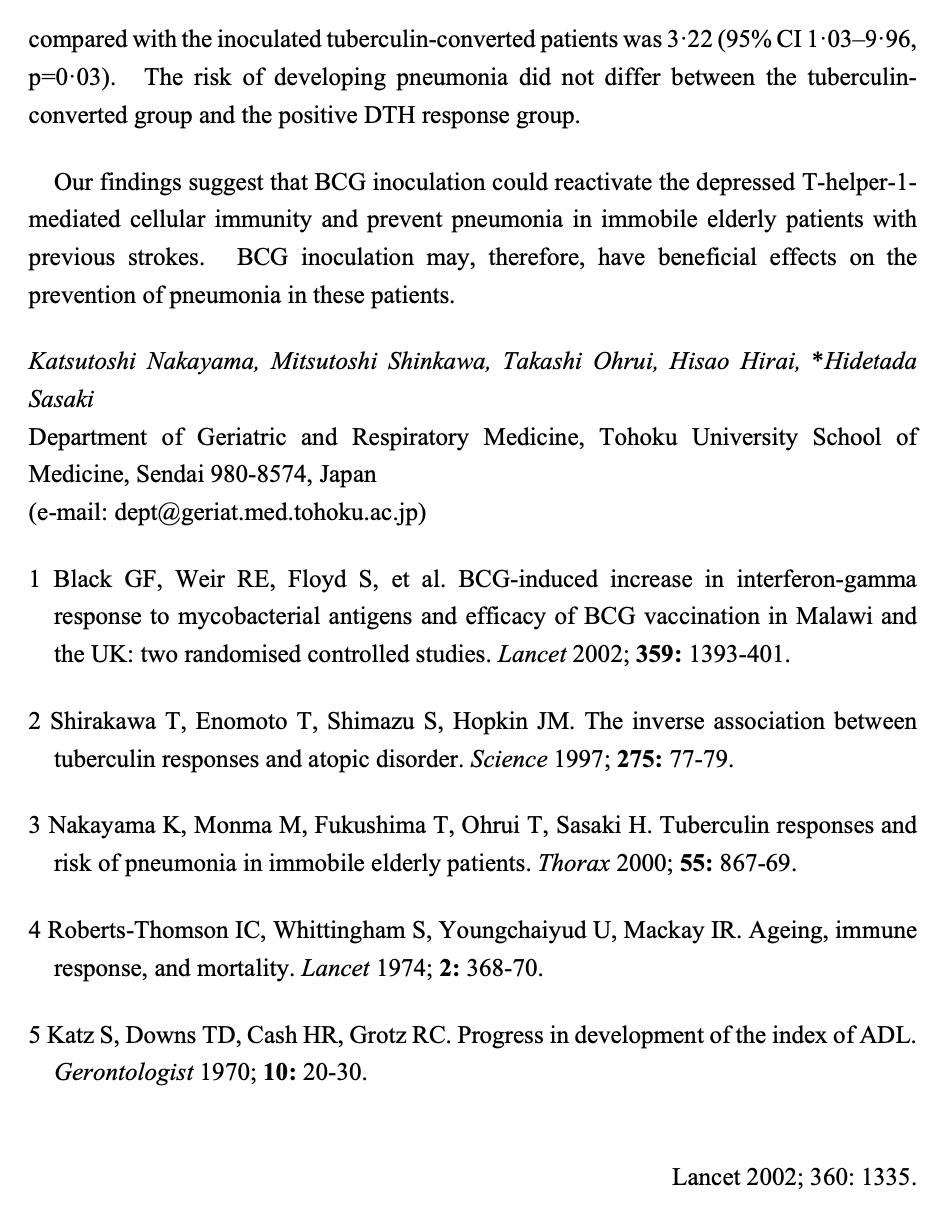 2.
A randomized controlled trial in Indonesia in 2011.
BCG vaccinations in the elderly, once a month for 3 consecutive months, significantly prevent the acute upper respiratory tract infection(AURTI) and can increase the IFN-γ level as Th1 response and IL-10 as Treg response in the period of the study in Indonesia 2011.
The Efficacy of Bacillus Calmette-Guerin Vaccinations for the Prevention of Acute Upper Respiratory Tract Infection in the Elderly
https://pubmed.ncbi.nlm.nih.gov/21979284/
http://www.inaactamedica.org/archives/2011/21979284.pdf
BCG Pasteur strain was used in this trial. BCG Pasteur is probably the weakest strain against COVID-19, weaker than BCG Denmark/Brazil.
3.
A randomized controlled trial in the Netherlands in 2015, injected with influenza vaccine 14 days after BCG Danish strain vaccination. The rate of antibody production and seroconversion to H1N1 flu was significantly improved. Modulation of cytokine responses against unrelated pathogens was observed.
BCG Vaccination Enhances the Immunogenicity of Subsequent Influenza Vaccination in Healthy Volunteers: A Randomized, Placebo-Controlled Pilot Study
https://academic.oup.com/jid/article/212/12/1930/2911938
There were no significant differences between groups were observed regarding HI antibody responses against the A(H3N2) and B/2012 vaccine strains.
This suggests that the trained immunity with the BCG Denmark strain works well against only some types of influenza, not all.
In the 2009 H1N1 influenza pandemic, Japan's death rate per capita is the lowest in the world. Actually, I was living in Japan then but didn't know there was the pandemic.
Below is the document by Ministry of Health, Labour and Welfare regarding the 2009 H1N1 influenza pandemic. Japan did not know why there were few deaths in Japan.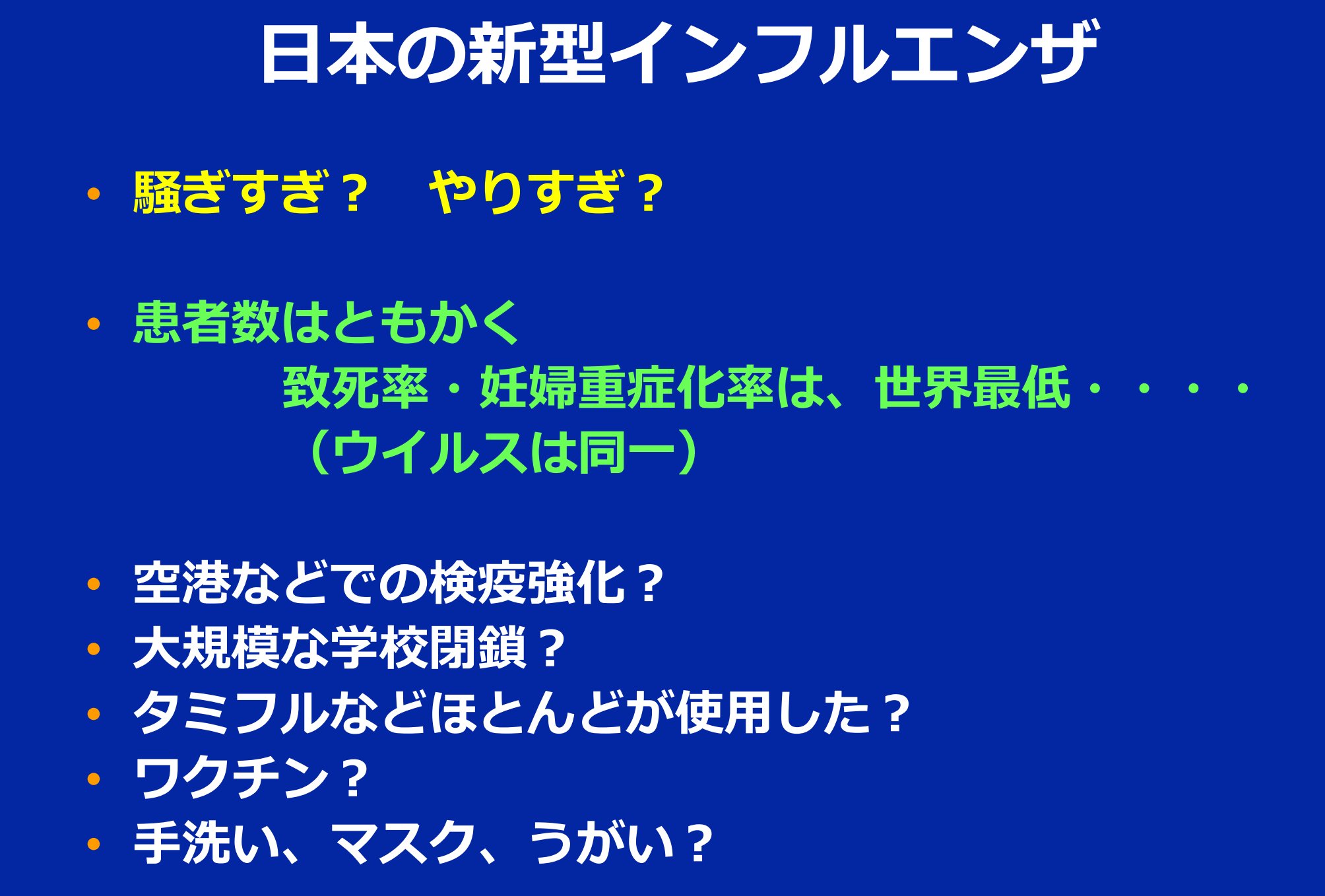 Also, in this paper, COVID-19 and BCG are predicted.
If a variant of influenza comes out, another Spanish flu of 1918 could happen. A specific vaccine would take longer to develop and be less effective.
Non-specific trained immunity enhancement with BCG should be adopted as a vaccine against that type of pandemic.